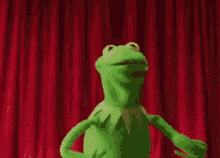 (Kermit provides a perfect example for what NOT to do!)
Everyone at some point gets the pre-performance jitters.  So, what can you do to help combat them?
1.  Breathe
Breathing is such a vital part of your everyday life, and for the most part it comes with ease.  But as soon as you step onto that stage, or when someone offers their hand for a social dance, it can feel like everything goes out the window.
Breathing is the first step to regaining control of your racing mind and heart because it allows you to stop and think.  Take a few deep, cleansing breaths before accepting that dance or before walking out onto the showcase floor and feel the power that comes from the feeling of cool air entering your lungs. Read this article from University of Michigan if you are interested in different breathing techniques.  
Include your partner in this exercise as well! Take these breaths together, so when you walk onto the floor, you are both calm and connected.
2.  Focus and Let Go
Focus on what you can control: you.  And remember that if something happens that wasn't according to plan, it's okay!  Run through your routine in your head just once or twice to remind yourself how well you know it. Here is a great video on making sure that your visualizations stay grounded in reality. If you continuously run through your routine, it gives your mind more time to hyper-fixate on anything that could go wrong.  Let go of those thoughts and remember the times you've rocked this style or routine before! Remember that you have done all of the practicing that you can, and once you step on the floor it's time for the muscle memory to do its work.  
Every time you dance at an event, you should have specific aspects of your dancing that you are looking to improve.  No performance will ever be 100% perfect! Narrowing down what you want to improve will help you evaluate whether you have achieved those goals, rather than just judging yourself based on a positive or negative feeling.  
3.  Have Fun!
Once you get on the floor, give it all you got!  Leave all those worries on the side and enjoy yourself, whether you do so by losing yourself in the music, the connection you create with your partner, or just in your own movement.  
Remember these tips and feel your confidence come right back up for any performance, whether it's a choreographed routine or if you're out for some social dancing!